by Land O'Lakes Culinary Center
04/29/2019
Game day is the time to sit back, relax and enjoy cold drinks with finger foods! Explore these dishes that take a spin on your customers' favorites for football season. This recipe collection is ideal for takeout, delivery or even an in-restaurant special.
Check out our favorite gameday recipes below.
Bloody Mary Recipe Collection
Start the day with a Bloody Mary. Garnishes turn an average drink into a delicious treat to enjoy before a college game. Choose from one of these Land O'Lakes recipes for Bloody Mary Bar inspiration.
Juicy Lucy Sliders Bloody Mary Garnish

Bacon-Wrapped Stuffed Jalapeño Bloody Mary Garnish
Cheeseburger Meatball Bloody Mary Garnish
Bacon-Wrapped Extra Melt® Bloody Mary Garnish
Dip Recipe Collection
Our Extra Melt® Shredded American Cheese and Queso Bravo® Cheese Dip are the ideal base for dips. Pair with chips or veggies for a tasty appetizer!
Fire-Roasted Cheesy Sweet Corn Dip

Loaded Fries and Tots Collection
Incorporate diverse flavors into your loaded potato dishes with our Korean or Southwest loaded fry recipes.

Hot Dog Collection
Everybody loves a hot dog on game day. Make your dogs EXTRA hot with one of our hot dog recipes featuring Land O Lakes® cheese products! Here are some ideas that will have customers drooling:
Sonora Dog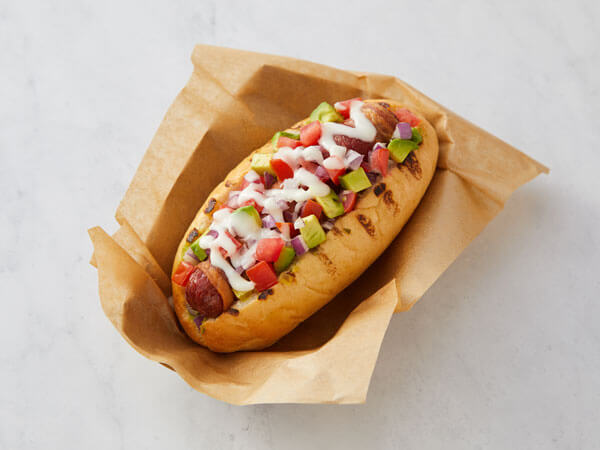 Wrap a hot dog with a strip of bacon and grill it up. Slather it with delicious Land O Lakes® Queso Bravo® Cheese Dip and top it with fresh pico de gallo and avocado.
Italian Dog

Extra Melt® American Cheese is great on a hot dog topped with spicy tangy giardiniera.
Chili Dog
Chili cheese dogs are an easy crowd-pleaser. Top a hot dog with spicy chili and our Land O Lakes® Extra Melt® Cheese Sauce.
Sign up for Land O'Lakes Foodservice emails today.
Get business tips, product solutions, and menu inspirations right to your inbox.
Thank you for signing up. Your first email is on the way! In the meantime, feel free to explore some of our resources from our Culinary Center.
See Resources
Learn more and be
Inspired
Explore our resources page and find videos, articles and more that will help ensure your professional kitchen remains a success.